WEGBESCHREIBUNG
WIR SIND ERNEUT UMGEZOGEN!
ACHTUNG! notiert Euch die Telefonnummer unten, denn eventuell müsst Ihr uns anrufen, um in das Bürohaus reinzukommen, wo wir unten im Keller sitzen.
DRAUSSEN GIBT ES KEINEN EINZIGEN HINWEIS auf subVert! Kein Schild, keine Klingel!


SUBVERT STORE SKATESHOP
Ludwigstrasse 12a, 20357 Hamburg
Telefon: 01512-5349174
oder, falls dort keiner rangeht: 040-33356297
Archiv:
Im folgenden findest Du die

Wegbeschreibung zum ersten Shop auf St. Pauli /
How to get there (to the old shop!)
 Achtung: Du wirst diesen Underground skateshop nicht auf Anhieb finden, obwohl sein Eingang direkt an einem der meistbefahrenen Plätze Hamburgs liegt.
Weil es so schwer zu finden, hier ein paar Fotos:
Mit dem Auto von Westen kommend hast Du diese Sicht. Vorbei an der 2, der 1, der 6,.....
... der 6, der 5, der 4 .... am besten, Du suchst Du Dir schon mal einen Parkplatz...
Die Parkplatzsituation ist so verschärft, dass selbst unsere Freunde und Helfer ihre Autos stehen lassen....
Wenn Du diese Sicht hast, dann geh nach links über die Strasse, hin zur Parkstrasse:
von Süden kommend/ Budapester Strasse, orientier Dich an dieser Perspektive:
hmm, versuchen wir mal eine freie Sicht auf den Laden zu ergattern und nähern uns - links haltend - die Budapester hoch:
verdammt, die Intervalle zwischen Wasserwerfern und Räumpanzern sind am Truppenübungsplatz "Neuer Pferdemarkt" so kurz, da braucht man schon ne schnelle Knipse!! 
Direkt davorstehend endlich freie Sicht auf den Eingang!:
Die Fassade wurde jüngst von SOLA INK überarbeitet:
Jo! Da unten drin sind wir! Glaubste nicht? Tritt näher!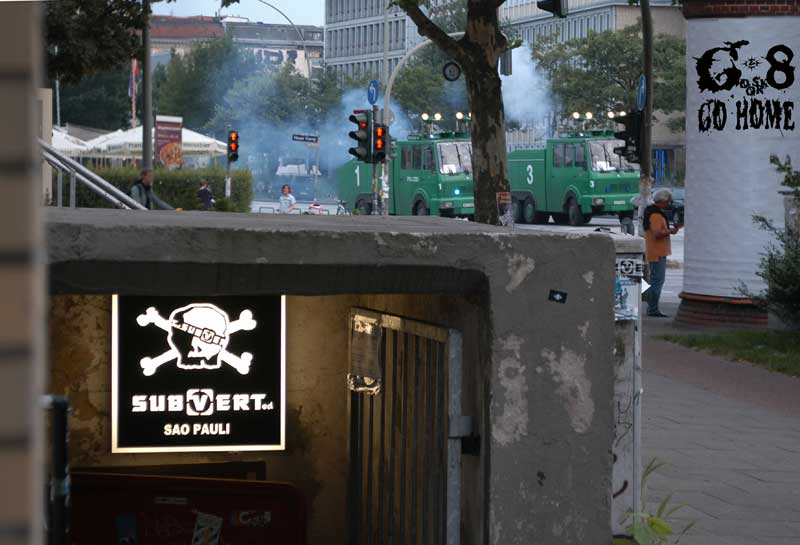 Und wer sich fragt, wie es wohl vom Eingangsdach aus gesehen aussieht, kann sich dieses Panorama hier anschauen.
Mittlerweile haben wir den Eingang gepimpt, so dass sich auch Weniger-Mutige herein trauen ;-)