7 YEARS SUBVERT STORE

Der subVert store besteht nun seit verflixten 7 Jahren!!
Volker Lux eröffnete ihn Ende März/ anfang April 2007 mit dem
4. EASTPAK SUBVERT JAM

  in Hamburg

 

Mehr zum 7years-Jubiläum später, im Anhang findet Ihr Eindrücke von der Geburt des Ladens:


 
BOWL 
Playing live to the bowl final:
The Concrete Skate Snakes from Malmö - 100% tough Skatepunks and sick Skaters! Yeeha! 
Nicky, the unstoppable SK8 Machine! First place in BOWL.
Thomas Madsen proofed that the best transition riders come from Copenhagen! 2nd place!
The 18year young Simon Stachon from the BRUSK Collective/ Belgium came pretty close
(here doing the same trick, FS air on the vert extension) 3rd place bowl.
Nils Hammann ripped and ripped and ripped! 4th place with an aggressive style! Congrats!
Copenhagen rules! Frederic Bodilson, 5th place bowl
The one-eyed David Martelleur!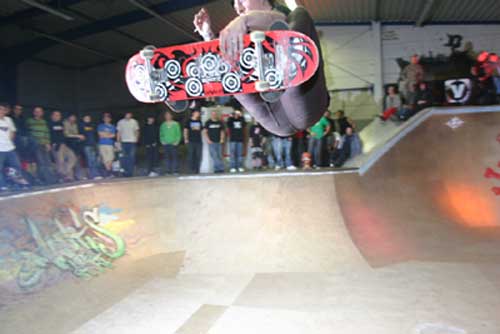 Chris Aström from Sweden. Due to the concert going on, he wasn't aware, that this was the Final heat!
So he dropped in and joined the Session, doing higher airs on this wall as anyone of the final competitors!
Even though teh head is cutted on this picture, the coping still didn't fit in! 
By the way:  Chris is very satisfied with the subVert decks! Here he rides the Mohawk. 
SEE MORE, REALLY GOOD BOWL PICTURES by Henrik Lippke ON https://www.subvert.hipp2k.de/ 
VERT MASTERS
... GRANDMASTERS, LEGENDS and OLD FARTS!
41 year old Sean Goff from the UK did each and every plant! Layback air to first place! 
44 year old Neill Danns from UK! Still ripping!
41 year old Bruno Rouland from France! He's the owner of Logo Skateboards .
36 year old organizer Lux - distorted Frontside Lipslide. 4th place Vert Masters 
The youngest Master - 31year old Marius Martaeng from Copenhagen - 360 FS flip.